Saturday's march against racism descended into farce as the Marxist-Islamist alliance, along with hard-core Irish Republicans sought to intimidate a Jewish group who had been invited to join the march.
The annual march was attended by "Glasgow Friends of Israel" (GFI), an organisation which has promoted peace and cooperation with Muslims.
Members of the Islamist "Scottish Palestine Solidarity Campaign" (SPCS), the Irish Republican "Red Front Republic (RFR) and various extreme communists grouped together to keep GFI away from the marchers. This involved jostling members (many of whom are elderly), screaming anti-Semitic bile in their faces and spitting.
This Marxist-Islamist alliance is something Column 5 has reported before, but the addition of the RFR is one that should cause great concern. RFR members wear balaclavas and their open support for the IRA's various campaigns of terror should have citizens concerned with the direction the group is taking.
At best they are little boys playing dress-up – at worst they are proto-terrorists, whose first attack could be just around the corner. The recent conviction of numerous republicans for terror related events show that this element is still very much active in Scotland.
The RFR has strong links with the Ultras group of Celtic FC, known as the Green Brigade (GB). GB has lots of previous for supporting terrorists and has been guilty of anti-Semitism on numerous occasions. Despite this, GB is officially endorsed by Celtic FC.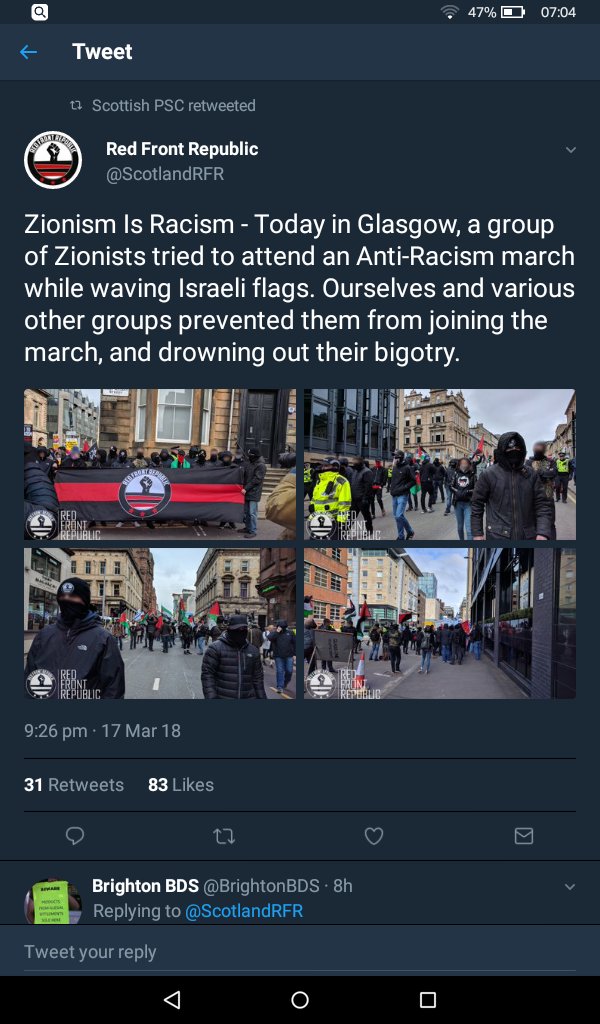 The leaders of SPSC, including the unhinged Mick Napier (pictured) who also has links to the GB and CFC, have been arrested numerous times for targeting Jewish businesses in a hate campaign. They have also associated themselves with numerous holocaust deniers.
However, Saturday's events show that this campaign has moved onto a new, sinister public phase. The alliance seems to show no fear of the authorities and this will be of great concern to the Jewish community as a whole.
Yet, credit to GFI as they eventually managed to complete the march despite intense provocation and intimidation from start to finish.
Column 5 would like to offer our complete solidarity with GFI in the face of this ramping up of intimidation tactics by the Islamist-Marxist – and now Irish republican alliance.
This alliance has no place in Scotland, let alone marching our streets intimidating citizens. It's time to keep a closer eye on these groups and put the spotlight on their shady actions.
If anyone has any more information on these groups, contact Column 5 and we will investigate.
***This was a statement made on the Facebook page of GFI convener Nigel Goodrich:
"On Saturday March 17 COFIS will once again march with many others against racism. COFIS abhors all forms of racism.

We have been made aware of aggressive attempts to prevent us from taking part, orchestrated by the Scottish Palestine Solidarity Campaign (SPSC). A detailed report published by Jewish Human Rights Watch in August 2017, written by respected researcher David Collier, revealed that 40% of posters on SPSC social media regularly posted antisemitic and/or holocaust-denying propaganda. Eminent Sunday Times columnist Alex Massie said in an article condemning this that "no decent person should associate themselves with the SPSC". The leader of the SPSC has been convicted and sentenced recently for his criminal behavior in relation to his harassment of a Jewish businessman. Other prominent members of the SPSC have convictions for aggravated trespass with a racially aggravated element.

When compared to the International Holocaust Remembrance Alliance definition of antisemitism, adopted by the European UK and Scottish parliaments, the behaviour of the SPSC is clearly antisemitic and hence racist. We look forward to marching with all those who understand that antisemitism is racism, and hence a crime, on Saturday."